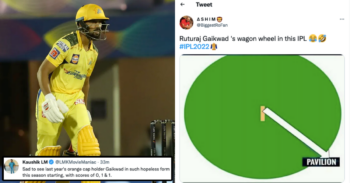 Chennai Super Kings (CSK) opener Ruturaj Gaikwad failed for the third successive time to get a good start in IPL 2022. After getting out for 0 and 1 in his first two games, Gaikwad was dismissed for 1 in the game against Punjab Kings. CSK are chasing 181 to win their first game of the season.
Ruturaj Gaikwad ended with the Orange Cap in IPL 2021 scoring 635 runs for the season. But so far this season, the right-hander has not found his range. In this game, Gaikwad was dismissed by Kagiso Rabada who nicked him off to slips getting caught by Shikhar Dhawan.
Ruturaj Gaikwad's Scores In IPL 2022 So Far- 0, 1, 1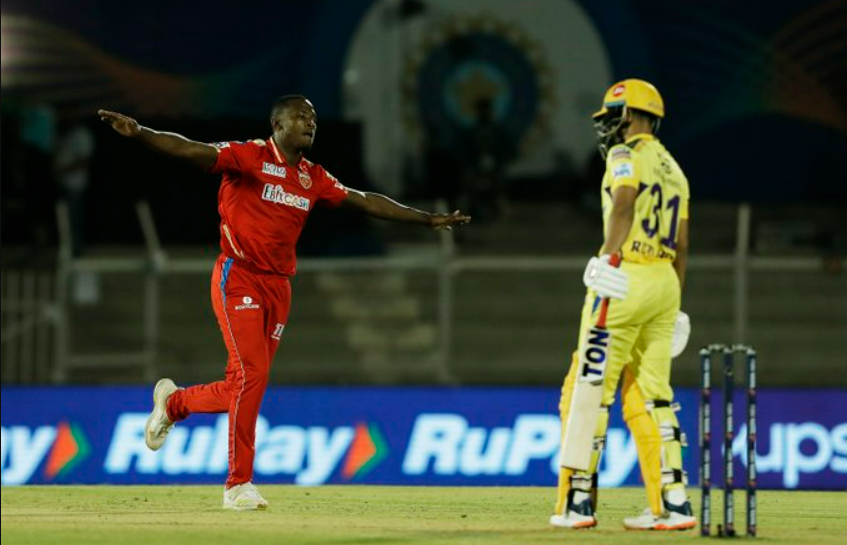 The Twitterverse was not impressed with Gaikwad's triple failures. Gaikwad was retained by CSK in ahead of IPL 2022 along with MS Dhoni, Ravindra Jadeja and Moeen Ali. CSK not scoring too many runs is down to Gaikwad's failures with the bat as well.
Sad to see last year's orange cap holder Gaikwad in such hopeless form this season starting, with scores of 0, 1 & 1.

Hope he turns around his form soon!#CSK #CSKvPBKS #RuturajGaikwad

— Kaushik LM (@LMKMovieManiac) April 3, 2022
Ruturaj Gaikwad after a promising last season has failed thrice in a row, @ChennaiIPL need him to score big, very soon!

— Harshit Anand (@harshit_256) April 3, 2022
1st 3 Innings of Ruturaj Gaikwad in

2020 IPL – 0, 5, 0
2021 IPL – 5, 5, 10
2022 IPL – 0, 1, 1

Let ccccc next match onwards

— KiRAN (@Duggavati_kiran) April 3, 2022
Ruturaj Gaikwad departs for just 1. 3rd consecutive failure from him, a great start by Kagiso Rabada.

— Mufaddal Vohra (@mufaddal_vohra) April 3, 2022
Ruturaj Gaikwad paying for the sons of that brain-dead fanbase. Trolling Dravid, Rohit, KL Rahul, Shaw, Gill everyone; just because another glorified anchor didn't get a playing 11 spot for India when there are a million openers in contention!

— Cricketjeevi (@wildcardgyan) April 3, 2022
0(4),1(4),1(4)-Last three scores of last season Orange cap Winner Ruturaj Gaikwad,
Ladies and gentlemen welcome young gun Gaikwad in NBDC Department of TukTuk Academy #CSKvPBKS pic.twitter.com/sTcDpOyon4

— TukTuk Academy (@TukTuk_Academy) April 3, 2022
3 mandatory failures done. Witness Ruturaj Gaikwad unleashing from the next match.

— ' (@Ashwin_tweetz) April 3, 2022
Ruturaj Gaikwad's consistency is excellent.!Not scoring in the first 3 games & then he will end up being one of the best batters in the tournament.!

— Deep Point (@ittzz_spidey) April 3, 2022
Batting Average of Ruturaj Gaikwad

In 2020 IPL
1st 3 matches – 1.66 Avg
Remaining matches – 199.00 Avg

In 2021 IPL
1st 3 matches – 6.66 Avg
Remaining matches – 55.91 Avg

In 2022 IPL
1st 3 matches – 0.66 Avg#CSKvPBKS

— (@Shebas_10dulkar) April 3, 2022
Gamefactor 2

Ruturaj Gaikwad has been dismissed thrice while facing 9 bouncers in his IPL career.

Punjab Kings' pacers might test Ruturaj with the moving ball and well-directed short balls.

Can the CSK opener overcome the powerplay challenge and fire tonight?#CSKvPBKS pic.twitter.com/00IcyZnmwf

— Stat Doctor (@stat_doctor) April 3, 2022
Gaikwad – one season wonder

— Gun Mexwall (@Maxithebigshow) April 3, 2022
No disrespect to Ruturaj Gaikwad,but had Shaw/Gill/Ishan/Padikkal scored just 2 runs in the opening 3 games, cricket twitter would have brutally bashed them

— (@bccinl) April 3, 2022
Feeling really bad for Gaikwad. Not a single score in the first 3 matches. Hope he finds his touch back in the upcoming matches. He is quality , we have seen that.

— ` (@FourOverthrows) April 3, 2022
Ruturaj Gaikwad in 2021 vs in 2022#CSK | #PBKS | #CSKvsPBKS | #PBKSvsCSK | #IPL2022 pic.twitter.com/CJzFKfBoAr

— Accidentally Given Fuck (@chupbhenkelode) April 3, 2022
Since 6th Oct 2021, Devdutt Padikkal has contributed more for CSK than Ruturaj Gaikwad.

— Sai Krishna (@SaiKingkohli) April 3, 2022
#CSKvsPBKS
Ruturaj gaikwad after facing 2-3 deliveries pic.twitter.com/cXOR11IfEL

— Angineer (@an_gineer) April 3, 2022
Ruturaj Gaikwad 's wagon wheel in this IPL #IPL2022 pic.twitter.com/gvV5dWmtgJ

— ∆ S H I M (@BiggestRoFan) April 3, 2022
Earlier in the game, Punjab Kings scored 180/8 batting first at the Brabourne stadium. Liam Livingstone scored 60 off 32 balls and in the process, hit the longest six of IPL 2022. The Kings after faltering at the start was brought back on track by Livingstone. However, after his dismissal, the Punjab innings lost track again and could not get over the 200-run mark.
Also Read: CSK vs PBKS: Watch – Liam Livingstone Hits 108 Meter Six Off Mukesh Choudhary, Registers Biggest Six Of IPL 2022
The post CSK vs PBKS: Twitter Reacts As Ruturaj Gaikwad Registers Third Successive Single-Digit Score In IPL 2022 appeared first on CricketAddictor.